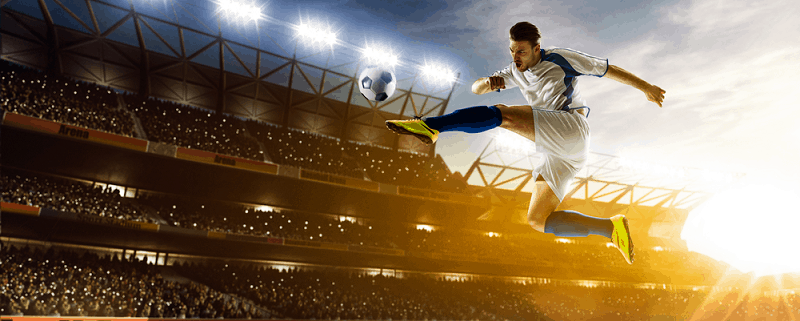 Here we consider the over 1.5 goals market and some strategies for betting on it.
What is the Over/Under 1.5 Goals Market?
The over/under 1.5 goals market is a market where you are betting on whether there will be more or less than 1.5 goals in a football match.
Now of course you may ask – "How can there be half a goal in a football match?"
Well, the market is not suggesting there will be half a goal. Rather, it is set up in such a way that your bet can only win or lose, it cannot draw.
So if there are no goals or one goal, then the result is under 1.5 goals. 
If there are two or more goals, then the result is over 1.5 goals.
Here are the outcomes in table format:
| | |
| --- | --- |
| Scoreline | Outcome  |
| 0-0, 0-1, 1-0 | Under 1.5 goals |
| All other scores  | Over 1.5 goals |
So as you can see, there are only three scorelines that can lead to under 1.5 goals. All other scorelines mean it will be over 1.5 goals – i.e. two goals or more. 
Either way there must be a firm outcome, it will either be over or under 1.5.
Should You Bet on Over 1.5 Goals?
The over 1.5 goals market can be an appealing one to bet on because you are cheering on goals to be scored and don't need to worry about who will win the match. 
All you need is two goals in the game for your bet to be successful. It can be a solid wager to go for in games where there are two attacking teams, or teams with weak defences, or both!
Generally a high proportion of games will finish with at least two goals; approximately 70-80% in fact. So if you back over 1.5 goals then you can expect a high strike rate of winners. Plus it can be fun to cheer on goals to be scored, with every shot, cross or corner being a potential source of profit for you.
As with most of the over/under markets, the over/under 1.5 market is a very popular market and therefore has excellent liquidity, so you should have no problem getting your bets matched and securing good value.
                   —————–Check out our number one ranked football tipster here—————–
Things to Watch Out for With Over 1.5 Goals
Whilst a large proportion of your bets will be winners and it can be a fun market to back on, there are some things to be aware of when betting on over 1.5 goals.
Firstly, the odds don't tend to be very good. Generally they are between 1.2 and 1.4 for over 1.5 goals before the game kicks off, so you are not making huge profits from each winning wager.
Secondly, it can be frustrating if you have backed on the market and whilst teams are pressing forward and creating lots of chances, they just can't score. This can leave you tearing your hair out waiting for goals to be scored, whilst the post is hit, the bar is rocked and the keeper keeps pulling off one unbelievable save after another.
Finally you have to watch team news carefully to be sure that key strikers and attacking players are going to be in the team. Without them, the teams may struggle to break down their opponents.
Over 1.5 Goals Strategies
Here we take a look at three potential strategies for betting on over 1.5 goals, one before the game kicks off and the other two for once the game has gone in-play. 
Strategy One – Goals Change Games
When bookies price up a game, they normally use sophisticated algorithms that incorporate a huge range of stats and information to come up with their odds. So for example the bookies might assume a game is going to be low scoring based on all the statistics their algorithm compiles and price up the odds of various markets – including over 1.5 goals – accordingly.  
However, once that game goes in-play, a lot can change. In particular, the time of the first goal and the team that scores it can dramatically change how a game unfolds. An early goal for example can lead to a much more open game. The bookies (and the Betfair market) will still believe the game to be low scoring however and won't adjust their pre-match model.
A tool that has proved to be very effective in exploiting such opportunities is Trade On Sports' HT Overs Bot. This is an app that monitors games and finds these situations where the in-play circumstances indicate a higher chance of a another goal being scored than the bookies realise, presenting members with value opportunities. 
The Bot takes the following factors into account:-
 The score at half-time;

 Historically under similar conditions 80% of matches had another

goal in the second half; and

 Over 70% of matches had at least one more goal

after 70 mins (presuming there wasn't a goal from 46 to 69 mins).
We conducted a live trial of the Bot for over a year and it generated over £6,000 profit with a return on investment of over 12% and a very high strike rate of 70% over the course of more than 1,000 bets, a substantial sample size. 
That is one of the best returns we have seen from any football strategy from the hundreds we have tested and certainly the most effective over 1.5 goals strategy we have come across. 
The HT Overs Bot is available with Trade on Sports' Silver membership and has proven to be a highly valuable tool for getting an edge in the overs markets – definitely one we would recommend if you are looking to make a profit backing over 1.5 goals. It can be used with both the Betfair exchange and the bookies.   
Strategy Two – Breaking Down the Stats
The next over 1.5 goals strategy is to look at teams that score and concede lots of goals. What we want is two teams with weak defences and strong attacks. 
If you go onto the site soccerstats, they have a wealth of statistics on football which you can use to your advantage in selecting your bets.
What you want to do is click on the league you are interested in at the top, then have a look at different teams' records in that league.
For the purpose of this example we will use the English Premier League (EPL). 
Taking a look at Chelsea, you can see from the table from soccerstats below (about half way down) that they had an excellent record of games with over 1.5 goals last season, with 87% of matches finishing with two or more goals.
If you have a look at the home statistics though, these are even more impressive, with 95% of Chelsea's games having over 1.5 goals.
Next we take a look at Manchester City, who have equally strong statistics, with 92% of their games finishing with over 1.5 goals.
With them however, it is actually the away form that is more impressive, with 95% of away games ending with at least 2 goals. 
Finally, we look at Arsenal whose stats aren't quite as high as the previous two but are still quite good.
They had 87% of games overall finishing above 1.5, but again it was the away matches that actually produced the higher figure at 89% of matches.
This is where you can potentially gain an edge over other punters by using the home and away form to differentiate where value is. Often teams will be expected to have higher scoring games at home but it can actually be the away games that produce more goals, perhaps because sides play on the break very effectively these days.
So you may well get better odds for over 1.5 goals on the away fixtures of top teams like Man City and Arsenal than for homes ones, but actually they are more likely to have a high-scoring game away from home.  
Before placing your bet, you also want to check team news to ensure that the main attacking players are going to be playing, to give your bet the best chance of succeeding.
Strategy Three – Following In-Play Stats
Another over 1.5 goals strategy is to wait for the match to go in-running and then see how a game is progressing before placing your bet.
Often matches will start slowly with both teams being cagey and trying to suss each other out. The stats back this up, with considerably more goals being scored in the second half of games and the most coming in the last 15 minutes (i.e. by 15 minute segment).
So it can pay to watch in-play stats and monitor how many shots are coming in on goal, how many corners there are and so on, to gauge whether it is looking like there will be a few goals.
You can use a tool like the In-Play Scanner, which monitors all in-running games and gives them a ranking based on how likely it is for there to be a goal. So when a ranking hits a certain level (say 70), it indicates a high chance of there being a goal scored shortly.
The benefit to this strategy of course is that you will get better odds for waiting for the game to go in-running. The odds on over 1.5 goals will move quite dramatically from the kick-off as the minutes tick by, thus offering a great value opportunity.
This strategy can be highly effective. Indeed, we ran a trial of a system that used these in-play stats and made £632 profit during our three month trial. 
The downside on the other hand is that there may be a goal before you have a chance to place your bet. If this is the case, you can either wait a little bit for the odds to settle and then still place your bet depending on how the game is going – or alternatively just leave the game entirely and wait for the next opportunity. 
Summary 
The over 1.5 goals market is a simple one to bet on – you just need there to be at least two goals in a game to win your bet.
The odds for there to be over 1.5 goals are generally low – usually between 1.2 and 1.4 before a game starts, but on the plus side a high proportion of games will have two or more goals.
By using statistics both before kick-off and in-play to asses metrics such as home and away stats and the number of chances created, there is an opportunity to make money on a regular basis using a solid over 1.5 goals strategy. 
As always, please gamble responsibly and only bet what you can afford to lose. 
   ——Check out this betting system that has made over $100,000 betting on the draw——
https://www.honestbettingreviews.com/wp-content/uploads/footballer-mid-air-kick.png
400
800
Dan
https://www.honestbettingreviews.com/wp-content/uploads/hbr-logo-new-300x145.png
Dan
2020-05-21 18:55:28
2021-06-04 17:42:19
Over 1.5 Goals Strategy