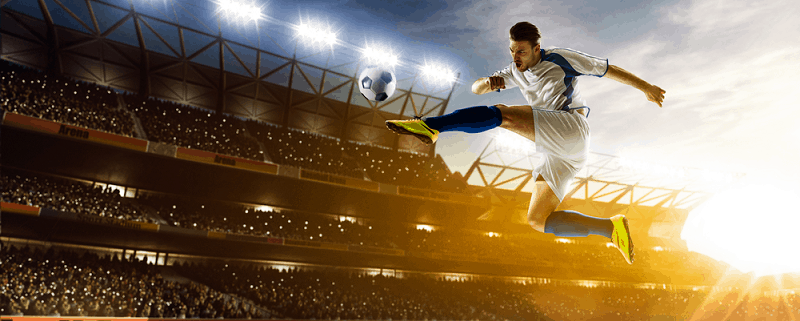 One of the most popular markets to bet on in football is the over 1.5 goals market. There is good liquidity for trading on the market and lots of opportunities to capitalise on value during a football match. 
Below we take a look at some top strategies for betting on the over 1.5 goals market.
What is the Over/Under 1.5 Goals Market?
Before we dive into looking at some strategies for betting on over 1.5 goals, a quick explanation of how the over/under 1.5 goals market works. 
You may be wondering – "How can there be half a goal in a football match?"
Well obviously that is not possible, but by setting the market up in this way it ensures there can only be two outcomes – the bet cannot finish in a draw.
For example, if there are no goals or just one goal, it will be under 1.5 goals.
If there are two or more goals, then it will be over 1.5 goals. 
Below is a table setting out the various eventualities:
| | |
| --- | --- |
| Scoreline | Outcome  |
| 0-0, 0-1, 1-0 | Under 1.5 goals |
| All other scores  | Over 1.5 goals |
So it's pretty simple really. Any game that has two or more goals, of any scoreline, will be over 1.5 goals. Less than two goals and it's under 1.5 goals. 
If the market was over/under 2 goals however and the game finished 1-1 and 2-0 for example, then the bet would be void. So by setting it up as over/under 1.5 goals you can only have two outcomes.
This makes it a more straightforward, binary market for people to bet on. 
Should You Bet on Over 1.5 Goals?
It can be attractive to bet on over 1.5 goals as you are hoping for goals to be scored in a game, which many people find preferable compared to hoping a game will be dull and low scoring. You can celebrate a goal going in for either side and not even be concerned about who wins the game.
It is also the case that a large majority of football matches finish with over 1.5 goals – about 70-80% in fact – so you will have a high win rate by betting on over 1.5 goals.
The odds of course tend to be quite low as a result, so the amount you win on each game is quite small. Lots of small wins can quickly add up though, so it should not be disregarded as a potential strategy just because of the low odds. 
At the same time, the over/under 1.5 goals market usually has very good liquidity – one of the best markets on Betfair (after the match odds market that is), so from the point of view of trading it is one of the top markets. 
What to Watch Out for With Over 1.5 Goals
Although there are clearly advantages to betting on over 1.5 goals such as the high win rate and being able to cheer on goals, there are also some things to watch out for if you are betting on the market.
As mentioned above the odds tend to be quite low – usually between 1.2 and 1.5 for over 1.5 goals at the outset of a match. So the winnings will be small and one loss can wipe out a few winners in a row – which some people find difficult to stomach. 
Whilst it's a fun market to cheer on when there are goals in a game, it can be a tough one to follow if a match has lots of chances that are not converted. Perhaps the keeper makes a host of great saves, or a striker keeps fluffing their lines – either way it can be very frustrating to follow when it looks like there will be lots of goals but somehow a game remains under 1.5 goals. 
It is also important to keep an eye on team news as major players being missing can affect the chances of it being over 1.5 goals – whether it's a key striker missing for one team or big defenders for another.  You don't want to be caught out by missing team news.
Over 1.5 Goals Strategies
Okay, so let's get onto how we can tackle this market. Below are three strategies for the over 1.5 goals market: one is a betting strategy for before kick-off and two are an in-play strategies.
Strategy One – Goals Change Games
One potential advantage bettors have over the bookies is to monitor how a game is progressing in-play. Sometimes a match will be a lot more – or less – open than had been expected. 
The bookies tend to price up matches in-play based on the pre-match prices and the odds therefore tend to follow a fairly standard pattern.   
However, once a match gets underway, a good deal can change from what was initially expected. One aspect that can really change how a game is played is a goal being scored early on.
You may have seen this in certain games – when a goal is scored it can become a lot more open, as if the floodgates have been opened. The side that is behind has to come out more to try and grab an equalizer whilst the side that is ahead can then find more spaces to exploit. 
A strategy that is built around this phenomenon is Trade On Sports' HT Overs Bot. It crunches the numbers from a database of thousands of matches around the world and identifies those where after an early goal, there is likely to be another goal – and therefore to finish over 1.5 goals – based on this data. 
The Bot takes the following factors into account:-
 The score at half-time;

 Historically under similar conditions 80% of matches had another

goal in the second half; and

 Over 70% of matches had at least one more goal

after 70 mins (presuming there wasn't a goal from 46 to 69 mins).
During our live trial of the Bot it made an excellent £6,000 profit with a return on investment (ROI) of 12%, which is pretty strong in football terms. The win rate was also high at 70%, meaning a high proportion of winning bets.   
Those are excellent returns and came from a sample of over one thousand bets, which means it is unlikely to have just been a fluke. 
Trade on Sports' HT Overs strategy is an example of an approach that has proven effective on the over 1.5 goals market, based on data and using the dynamics of in-play odds to find an edge. 
You could build your own strategy based on this idea, perhaps by watching games in-play and looking for examples of an early goal changing a game. Maybe the game is much more open than was originally expected and so you think it will go over 1.5 goals. 
Either way it's a viable strategy for over 1.5 goals to see how games develop in-play, whether using data from a site like Trade on Sports or your own observations. 
Check out our list of the Best Football Tipsters here
Strategy Two – Stats that Add Up
Our second strategy for betting on over 1.5 goals is to look for match-ups where the stats strongly point towards there being goals. This can be using team-specific data, including their home and away records of over 1.5 goals. 
If you go onto the site soccerstats, there is a great deal of information you can use to build a strategy. 
To start off with you can choose a league and then you can look specifically for the record of teams in terms of over 1.5 goals. 
Here for example is the stats table for the English Premier League (EPL) in the 2021/22 season:
We can see for example that Leicester City had a very high number of games with over 1.5 goals, with 87% of their games having two or more goals.
You may not have necessarily picked Leicester as a high-scoring team, but they actually had more games finishing with over 1.5 goals than Manchester City, Liverpool, Arsenal and Spurs for example. 
What is particularly interesting though is if we delve into a breakdown of their stats:-
If you have a look at their away statistics in particular, what stands out is that an amazing 100% of Leicester's games finished with over 1.5 goals.
That means even in tough away fixtures against teams that were tight at the back, the game still finished with two or more goals. 
Another side that might surprise people in terms of their record is Aston Villa, although this time it's their home record that stands out:-
With 89% of their home games finishing over 1.5 goals, it was the best record in the league along with Liverpool.
You might not have expected it with Aston Villa though, so there could be value there compared to Liverpool, who would be likely to have very low odds at home for over 1.5 goals. 
Using these stats from a site like soccerstats can help to identify teams who might be "flying under the radar" in terms of their over 1.5 goals chances. You can also drill down further and look at the  home and away stats to find teams who stand out. 
Ideally you want to find situations where there is a match-up of a team at home who have a high number of home over 1.5 matches versus an away side who have the same when playing away.
It is also worth looking at teams' playing styles to understand why they have such stats and if they are therefore likely to be repeated. 
Using the stats in this way and making sure they add up to your advantage will give you a better chance of succeeding on the over 1.5 goals market than the vast majority of punters.
Strategy Three – Following In-Play Stats
Finally our third strategy for over 1.5 goals involves following the action once a game has gone in-running and using detailed match stats to find value bets.
Often matches will start slowly with both teams being cagey and trying to suss each other out. The stats back this up, with considerably more goals being scored in the second half of games and the most coming in the last 15 minutes (i.e. by 15 minute segment).
So rather than placing a bet before a match kicks off, it can be better to let it go in-play and see how it develops.
You can either watch it live and monitor the number of shots, chances created, corners won etc or use a tool like the In-Play Scanner.
It does the hard work for you, monitoring dozens of matches at the same time for how many of these actions are occurring. Games are assigned a rating according to how many of these actions there are and when a goal is looking likely. When a ranking hits a certain level (above 70 for example), it suggests a high chance of a goal about to be scored.
The benefit to this strategy of course is that you will get better odds by waiting for the game to go in-running. The odds on over 1.5 goals will move quite dramatically from the kick-off as the minutes tick by, thus offering a great value opportunity.
This strategy can be highly effective. Indeed, we ran a trial of a system that used these in-play stats and made £632 profit during our three month trial. 
There is a risk of course that there will be an early goal before you have got your bet on and the opportunity can appear to be gone. However, you should not necessarily give up. You can continue to monitor the game and there may be another chance to enter the over 1.5 goals market later on in the match. 
Summary 
The over 1.5 goals market is a simple one to bet on – you just need there to be at least two goals in a game to win your bet.
The odds for there to be over 1.5 goals are generally low – usually between 1.2 and 1.5 before a game starts, but on the plus side a high proportion of games will have two or more goals.
By using statistics both before kick-off and in-play to asses metrics such as home and away stats and the number of chances created, there is an opportunity to make money on a regular basis using a solid over 1.5 goals strategy. 
As always, please gamble responsibly and only bet what you can afford to lose. 
Want more strategies like this? Well check out our Lay the Draw betting strategies here. 
https://www.honestbettingreviews.com/wp-content/uploads/footballer-mid-air-kick.png
400
800
Dan
https://www.honestbettingreviews.com/wp-content/uploads/hbr-logo-new-300x145.png
Dan
2023-01-02 18:55:28
2023-01-06 17:31:35
Over 1.5 Goals Strategy