Betting on football has exploded in recent years to become the most popular sport to gamble on in the world, overtaking even horse racing, with an estimated $500bn wagered on the "beautiful game" each year around the world. 
That is perhaps not surprising when you consider football's popularity as the world's favourite sport and how many games are now available to watch on TV and online. These days you can watch matches from top leagues all over the world – pretty much all day every day if you wish!
To be able to win at football betting is a whole other matter however and is much harder than most people think. The bookies have vast resources at their disposal and deploy the most sophisticated software and up-to-date info to ensure their odds are accurate. Once you have taken the bookies' edge into account (often referred to as the "overround") then making a consistent profit on football becomes very tough indeed. 
However, we have spent a great deal of time searching the internet and testing out hundreds of systems, strategies, guides, courses, tipsters and just about anything else you can think of to try and find a profitable strategy for betting on football!
Fortunately we have found some very good ones, like Trade on Sports, a stats-based strategy that made over £4,000 profit during our review of it or Football Advisor Lays that made £3,700 profit in a live trial.  
Below we take a look at some of these strategies and how you can apply them to your own betting, but first let's have a look at why it's so important to have a strategy in the first place.  
Why You Must Have a Strategy in Place
Before we get onto the strategies themselves, it is important to first establish why it is vital to have a clear strategy in place when you are betting on football.
If you are just gambling "willy-nilly" on hunches and in a whole range of different markets on a whim then your chances of making money are virtually nil. Many people bet based on gut feelings and without any clear strategy behind what they are doing, and then wonder why they lose money!
Those who do manage to make profit do so through a rigorously applied strategy and proper money management and it is not just by luck that they consistently beat the bookies.
Professional gamblers and traders stick to their strategies and don't deviate from it just because of a couple of bad results.  Every system, no matter how good it is, will have its ups and down and won't win every time.
One of the biggest mistakes we see is people hopping from one system to another, jumping ship as soon as a strategy has a few losing bets. Doing so sadly ensures they will never make a profit from their betting because they don't stick around long enough for losses to be recouped and for the bank to grow. They are just consistently losing money and do not have the correct mindset for successful betting.  
It is important to recognise this and to prepare yourself for the inevitable losing runs. Making sure you have a big enough betting bank is crucial, as is not over-staking. 
If you can follow these rules, adopt a long-term mindset and use sensible money-management then you have a chance of being successful at betting. Of course you still need a successful strategy though. Let's take a look now at the some potential strategies you could use.
Top 5 Best Football Betting Strategies
OK, so let's take a look at the top five football strategies we have uncovered through our extensive research and testing. These are the approaches that have demonstrated they can generate a market-beating return and whilst there are no guarantees they will do so forever, using a tried-and-tested strategy is a much better idea than gambling at random or on "gut feelings."
Strategy One – Follow the Stats
One of the most reliable and consistent strategies for betting on football is to use statistics to guide your selections. There are a vast amount of resources out there you can utilise these days, with sites like soccerstats and flashscores offering a wealth of data on everything from goal times to shots on target, completed passes and more. 
You could select stats on specific markets like HT-FT, identifying which sides tend to score more goals in the first or second half, for example. Some teams are notoriously quick starters in games, where as others tend to only really get going in the second half. However, the bookies will normally just price the HT-FT market up on the basis of the match odds. So if you can find teams who stand out in terms of their stats in one half or another, there could be some value in this market.
Another approach which is being used more often these days is looking at "expected goals." You can ignore what Craig Burley said when asked about expected goals, dismissing it as "an absolute load of nonsense," commenting: "I expect things at Christmas from Santa Claus, but they don't come right?" Expected goals are in fact an established way of understanding in one simple metric how well a team played and how many chances they created in a game. If a team is consistently creating chances but failing to score as many goals as they should have, the expected goals stat will express that and could present some value for the astute observer. 
One website that has shown it can use stats very effectively is Trade on Sports. Run by a team of professional traders, they use a vast database of stats from leagues around the world, looking for value bets in-play. During our live trial of their service they made over £4,000 profit with an excellent strike rate of over 70%. This was made from following in-play alerts in games where at least one second-half goal was expected. 
They have other alerts in the works too which could be just as effective. As well as receiving their in-play alerts, you can also use their huge stats database to devise your own bets and trades and there are instructional videos on how to use the database.   
All in all the success of Trade on Sports shows the power of utilising stats and why you should consider using them as the basis of your strategies. 
Strategy Two: Back Short-Priced Favourites
Like so much in betting, those who find success often do what seems counter-intuitive – or as professional punter Nick Mordin described it, "going against the crowd." 
Most ordinary punters assume there is no value to be found in backing odds-on shots and doing so is a "mug's game." 
However, there is a great deal of evidence that exactly the opposite is true, including academic papers from Nottingham University Business School and the Scottish Journal of Political Economy. Without wading into all the numbers, basically the higher the odds you bet at, the more money you lose over time – or in other words the worse the value is. 
Various reasons have been postulated for this, but the most plausible is that most punters don't like backing odds-on shots and therefore bookies are more inclined to offer them value to attract custom, where as at longer odds they don't have to as people will bet anyway. 
One service that has exploited this bias is Banker Bets, a long-running system that focuses on picking short-priced favourites in football matches. Its original service which we reviewed here made 410% profit if backing accumulators and 145% profit if backing the tips as single bets. Since being relaunched in 2018 it has made 47% profit so far at a very high win rate of 77%. 
Many of the selections are priced in the 1.2 to 1.3 range, which might seem an unlikely way to profit, but as we say there is a great deal of evidence that betting at those prices in fact represents the best value and the results of Banker Bets back that up. 
Strategy Three – Back the Draw
A lot of column inches have been devoted online to discussing the lay the draw betting strategy over the last few years. However, very little attention has been devoted to doing the opposite – backing the draw. 
As we have mentioned above, doing the opposite of what most other punters are doing can often prove profitable and this certainly seems to be the case with backing the draw. The theory behind it goes something like this – very few people back the draw as they much prefer to bet on one team or the other to win a game. Therefore much as with the favourite-longshot bias, the bookies are often prepared to offer some value on the draw knowing that very few people will back it.
This potential for the draw to hold value was backed up during our trial of JK Diego's Draw Betting System, which made over $4,300 profit during our six month review. 
JK bets solely on the draw and has been refining his strategy for over eight years, identifying the key factors to look for and who are the best teams to follow are. His results in 2018 were nothing short of spectacular, with over 350 points profit made to 1-point level stakes, or over $35,000 to $100 stakes. 
The service has proved very popular and understandably so given those results, so JK has to charge high subscription fees to keep the membership numbers manageable and protect prices for existing members. 
JK Diego's results are some of the best we have ever seen from a football system however so backing the draw does appear to have some considerable merit. 
Strategy Four – Lay Weak Away Teams
One of the strongest trends in football is the advantage home teams enjoy over away teams. It is universal in all football leagues around the world.
The reasons are probably various, but the main ones are probably the boost of the crowd and the familiarity of playing on their own turf for the home team and the burden of travelling for the away side. The last one is backed up by stats showing the further teams have to travel (e.g. in the Champions League when teams have to go over to Russia), the worse they tend to do. 
Some teams are particularly bad travellers however, with some notorious examples over the years being Sturm Graz in the Champions League and Fulham in the 2018/19 Premier League, who only won one away game all season. The bookies normally only price matches up according to the relative strength of the teams, not their respective home/away records which offers the opportunity to find some value.
Two services which have done that over the years are Football Elite, which sadly no longer offers match tips, and Football Advisor Lays, which performed very well during our seven-month trial of it, making 37 points profit – or £3,700 profit to £100 stakes. They focus on laying poor away teams and have shown a strong record over a number of years in doing so. 
Finding nuances in teams' home and away form like Football Advisor do is another good strategy to use in football betting. 
Strategy Five – Matched Betting
This strategy is only available to those in the UK and Ireland unfortunately but it is highly effective in making a profit from football betting. 
Basically it involves using the bookies' free bets and bonuses to make a guaranteed profit regardless of the outcome of a game. You can do this by laying off a percentage of your bet at the exchanges, using a calculator to work out the exact amounts. 
There are matched betting packages like Profit Maximiser which bring together all the hundreds of the bookies' free bets and show you exactly how to set them up so they can't lose.
We made a very nice £2,469 profit during our trial of Profit Maximiser. Some people even do matched betting as a profession and make a very tidy income from it, although it must be stressed a lot of dedication and effort is required if you are going to do that. It is probably time-limited as well because eventually the bookies will close your accounts, although there are some steps you can take to mitigate that and keep your accounts open much longer. 
For those who have access to it though, matched betting is undoubtedly a sure-fire football betting strategy. 
Conclusion – the Best Football Betting Strategies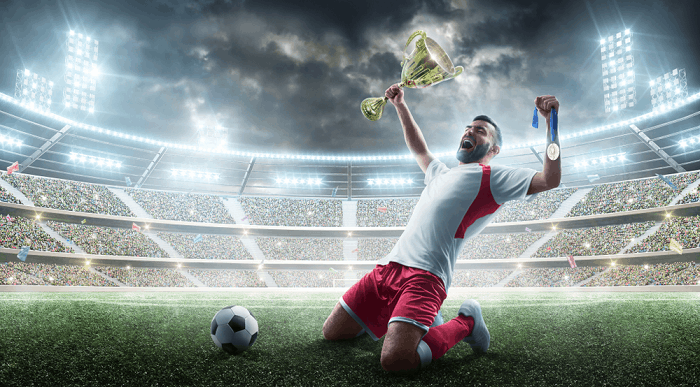 Making a profit from football is not easy and the bare facts are that over 98% of people lose money when betting on the beautiful game – perhaps not so beautiful for them! 
To join those 2% of people who make a profit from their football investing, you need to have a clear strategy and stick to it over the long term, whilst accepting there will be losing runs along the way.
There are some great football betting strategies out there and we have illustrated five of the best we have found above. They have all demonstrated a clear profitable edge over the market in the long term and deserve a great deal of respect for that. 
Whether you decide to follow any of the strategies above or to develop your own, please make sure you gamble responsibly and only risk money you can afford to lose. 
https://www.honestbettingreviews.com/wp-content/uploads/football-players-kicking-ball.png
400
800
Dan
https://www.honestbettingreviews.com/wp-content/uploads/hbr-logo-new-300x145.png
Dan
2019-08-05 20:04:47
2019-08-05 20:15:44
Best Football Betting Strategies