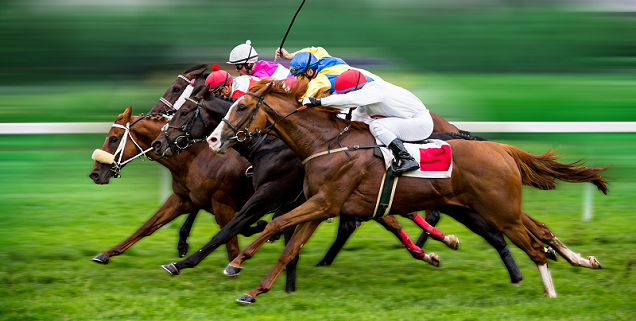 There are countless horse racing betting systems on the market and many of them are highly complex. Some involve hours of form study or setting up complicated Betfair bots and the like.
Does this complexity make them any better than other systems though? It is not always the case and in some instances simple is better. 
We have looked at hundreds of betting systems and strategies over the years and it is often the most straightforward ones that stand the test of time and prove most successful.
There can be a danger of "over-thinking" things and getting caught up in the minefield of data, form, stats and information that's available online these days. Finding a straightforward approach that has a clear edge and can be repeated over and over again can be a better path to success.
So we'll have a look below at some simple horse racing systems that have a proven ability to work in the long run. 
Top 6 Simple Horse Racing Systems
Here's our list of our top six simple horse racing systems that we have tested out and proved their ability to generate a profit. 
The list runs from six to one, with the best saved for last. Please let us know in the comments below if there are any you think we've left off! 
6. Using the Racing Post Naps Table
If you have gambled much on horse racing you will probably have come across the Racing Post naps table at one stage or another. This is the table that summarises all the newspaper tipsters' best selection of the day (nap) in one table. 
Now what you certainly don't want to do is just back the most tipped horse to win. These newspaper tipsters generally have poor records and often just tip favourites so they can say they had a winner. Usually their overall record for a season will be considerably down. 
However, this naps table does have another use. It can tell you where money is likely to be placed by punters. The Racing Post is a very popular publication and is bought by thousands of race-goers at meetings around the country. The website also has thousands of visits each day. 
By looking at the table and picking out a horse that has been very heavily tipped, you can see where money is likely to be placed. You can therefore use this to place a trade – backing the selection early on via the website before the crowd who pick up their copies of the Racing Post at the races – and then laying it off in the run-up to the race.
It's surprising just how often these horses end up being backed, particularly if they have a famous jockey on board or are from a renowned stable. And the nice thing about this strategy is it requires no form study and is extremely quick to execute – just a quick check of the naps table, place a bet and then remember to lay off later.
5. Laying Exposed Favourites
Another simple strategy for the horses is to focus on horses who are favourites for a race but have a big question mark against them.
In racing parlance what we are looking for are horses that are "exposed." This means is they have lots of form to go on, so everyone can see how they have performed in various conditions. Specifically those to focus on are ones who are being asked to do something in this race that they haven't done before. That could be failing to win at this distance before or on this type of ground or surface, or at this class of racing before.
The more that the horse has run facing these same conditions before and failed, the better it is in terms of laying them. If all their wins have come at 6f or less and they have run ten times for example at 7f or longer, then if today's race is 1m it would be a red flag against them – in a good way from a laying point of view that is. The more of these red flags that are combined in one race the better. 
Horses are normally priced based on their recent form, for example if they have won their last two races they are likely to be a short price for their next one. However, looking beyond the recent form into a horse's history and seeing if they are being asked to do something today they have consistently failed to do, can be a simple but effective strategy. 
4. Simple Back to Lay Trading
Horse racing, like many things in life, tends to follow patterns. Certain horses have a tendency to perform in the same way, time after time. 
This is good from a betting and trading point of view because it means we can set up systems around these patterns. One such approach is to use a simple back-to-lay trading strategy. 
What we are looking for is horses who have a tendency to race prominently, but tend to come up short in the end. These are those front-runner or pace-setter types who like to get out in front and commentators describe as "eager" or "keen." Their prices tend to shorten quite a bit in-play as they make the early running.
However, they then tend to fade towards the end as they run out of puff and usually finish second or third. Although these types can be frustrating to bet on, they actually set up nicely for a back to lay trade. 
What we do is back them before the race starts – they will often be a nice price because they don't often win (although are regularly in the mix). Then we put in a lay price at a certain level, which we are hoping will be matched in-play.
Often this can be half the starting price – so if a horse is 10.0 at the start, you would put in a lay at 5.0 for example. This is referred to as "dobbing" – short for "double or bust."
There is no hard and fast rule however on having to set the lay at exactly half of the back price. It is probably better to be flexible on this and look at how much the horse in question has tended to reduce in price in their previous races. Some horses might consistently reduce just 30% for example, where as others might reduce 40% or 50%. 
The principle is the same though – we are looking for horses that shorten in-play. There are some horses who have a remarkable strike rate of doing so and this can be an effective way of following them. 
3. Grab the Each-Way Value
Another strategy that doesn't rely on any form study or even knowledge of horse racing is the each-way value system. 
This is based on the idea that on certain each-way bets, the place part of the selection presents an edge over the bookies. This happens because the place odds are based solely on the win odds (usually a quarter or a fifth of the win odds).  In themselves though the place odds can actually be value – particular in a race with a short priced favourite. 
If it sounds difficult to work out when this might be the case, don't worry because there is software out there that does all the work for you. This is called the Each-Way Sniper software. It crunches all the numbers, comparing the Betair odds to the bookie odds and working out when there is value on the place part of the each-way bet. 
You just need to check the software and then place the bet. We conducted a full review of Each Way Sniper and it performed very well, making £473 profit over the course of our trial. 
It couldn't be much simpler than that in terms of a system that you don't even need to know anything about horse racing to follow! Just choose your settings, check the software each day and then place the bets. A great little system. 
2. Following Specialist Trainers
An overlooked strategy for betting on horses is to focus on trainers. There is a great deal of attention given to jockeys, with many of them like Frankie Dettori and Rachael Blackmore becoming celebrities in their own right. 
However, a lot less attention is given to trainers. There are certain ones like Aidan O'Brien and Sir Michael Stoute who are big names, but most punters either ignore the role of the trainer completely, or just bet blindly on all of a trainer's horses in a certain race and hope for the best. 
A little bit of looking into a trainer's record though can reveal some big trends. As we have discussed at length in our e-book Ultimate Betting Secrets, one such example is John Gosden. He has an excellent record overall, but in particular in big races and at odds of over 5/1. 
Another example is the Godolphin stable, who have a particularly good record on the all-weather and at odds above evens. 
It doesn't take long to check out stats for trainers on a site like Flatstats or at the Racing Post. Finding an angle on a trainer can be very profitable – the key thing as we say in our betting guide is for there to be some logic and reasoning behind why a trainer specialises in certain races, rather than just being random variation that they have a good record at a certain track for example. 
1. Laying Odds-on Shots
The most effective simple betting system we have come across through all our testing over the years is a straightforward laying system that involves taking on short-priced favourites. 
The system is called Little Acorns and has been running for over ten years now. It involves following just a few simple rules that identify horses who are odds-on but are value to lay.
Although we can't give away what those rules are, they are straightforward to follow and it only takes 10-15 minutes per day to check the racecards and find any suitable selections. If you don't have the time for that, there is even an offshoot service, Little Acorns Gold, which finds the selections for you and emails you or sends you a message on Telegram when there's a bet.  
We often say the real test of a system is whether it stands the test of time and Little Acorns has certainly done that, having made a substantial profit every year now since launching in 2009. It made an impressive 189 points profit in our trial of the system and has won numerous awards, including our very own Best Horse Racing Service 2020, which was voted for by our members. 
As we said at the beginning, sometimes simple is best and in the case of Little Acorns, that has proved to be the case with this remarkably uncomplicated system that anyone can follow. Many indeed have been following it for years now and have built up substantial betting banks from small starting stakes – or in the parlance of the system, "mighty oaks from their little acorns."
Conclusion – Keeping it Simple
So there you have it, a list of simple but effective betting systems. We have included a range of strategies to suit all tastes, including backing, laying and trading systems and ones with totally different approaches. 
These are just some of the many possible ways you can approach a betting system but hopefully they have given you ideas of some simple approaches you may wish to develop yourself. 
Whatever form of betting you do though, please remember to always gamble responsibly and only risk money you can afford to lose. 
https://www.honestbettingreviews.com/wp-content/uploads/horse-race-pic-1.png
400
636
Dan
https://www.honestbettingreviews.com/wp-content/uploads/hbr-logo-new-300x145.png
Dan
2022-07-15 17:45:54
2022-11-01 17:15:42
Simple Horse Racing Systems That Work